Corporate Training
We believe that the ability to deliver projects successfully is a critical business capability.
Whether driven by innovation strategies, technology transformation, or simply adapting to the new normal, the ability to choose and shape the right projects - and be confident they will deliver - has never been more important to business results.
Now with our innovative learning platform, we can help you to improve the predictability of project performance through cost effective, globally accessible training.
Our programmes connect strategic planning workshops with change & programme management capability building and specialised training in project governance through our Strategic PMO courses.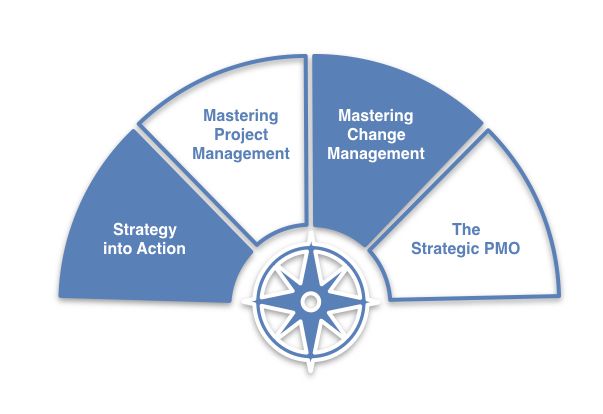 Our programmes
Built by experienced transformation directors - customised for you
Strategy
into
Action
A series of virtual workshops for executive teams and change leaders to turn business strategy into a portfolio of
actionable, deliverable plans.


Mastering
Project Management
A comprehensive training path to build advanced project management capability, from stakeholder management through to transition planning


Mastering
Change Management
Essential training for executives, change leaders and project teams to ensure stakeholder buy-in and successful adoption of transformation projects


The
Strategic
PMO

Based on our extensive experience in building strategic global PMO's. From creating a compelling PMO business case to governance design & executive reporting

Our project management capability building services
ASSESSMENT
Our Project Management Maturity Capability tool identifies organisational development needs & builds individual and team training plans
TRAINING
Our flexible suite of training services are a rich mix of online, multi-media courses, available 24/7, or we can deliver training at your premises as you prefer
COLLABORATION
Our project management community platform enables you to encourage knowledge sharing and community building across your enterprise
GOVERNANCE
Promote consistent use of project management practices and standards through customised online onboarding for new hires, contractors & consultants
PREDICTABLE DELIVERY
The key to successful transformation projects
Created with